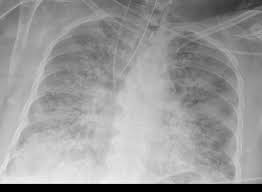 Welcome to our COVID-19 Resource Page  This information is for educational purposes.  Please ensure you follow the guidelines established by your department, hospital, and health authority.  
Fifty Years of Research in ARDS. Gas Exchange in Acute Respiratory Distress Syndrome.http://www.atsjournals.org/doi/abs/10.1164/rccm.201610-2156SO. The review is related to physiology of gas exchange in ARDS and points out that "In mechanically ventilated patients, instrumental dead space contributes to total VD/VT". It also reminds that "Several clinical studies have shown that in patients with ARDS ventilated with a low tidal volume (VT), reducing the instrumental dead space by replacing the heat and moister exchanger by an active humidifier significantly decreased PaCO2".
An international epidemiological prospective study that was recently published in The Lancet revealed that about a third of patients receiving mechanical ventilation in ICU were at risk of developing ARDS (http://thelancet.com/journals/lanres/article/PIIS2213-2600(16)30305-8/fulltext). The findings mean that potentially a third of all ventilated patients may get a considerable improvement in gas exchange if heated humidifiers are used instead of HMEs particularly when the low-tidal-volume ventilation strategy is followed.
Please see below additional documents referring to the importance of using active humidification with ARDS patients and when a protective ventilation is used:
The Moran study Heat and moisture exchangers and heated humidifiers in acute lung injury/acute respiratory distress syndrome patients. Effects on respiratory mechanics and gas exchange:https://preview.ncbi.nlm.nih.gov/pubmed/16498531
The AARC Practice Guideline 2012 stipulates that ″When providing humidification to patients with low tidal volumes, such as when lung-protective ventilation strategies are used, HMEs are not recommended because they contribute to additional dead space, which can increase the ventilation requirements and PaCO2.″ :  https://www.aarc.org/wp-content/uploads/2014/08/12.05.0782.pd